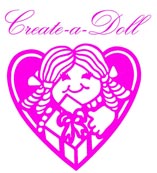 Create-A-Doll is an all Australian Company servicing the Doll world since 1985. We are a family based business and pride ourselves on offering the best possible price on all our products with excellent service. Our retail shop has closed in 2016, however goods and orders can still be collected from Woolloongabba but there is no showroom to view merchandise. Send through a list of items you are interested in and we will arrange these to be picked ready for time of viewing. Appointments are necessary.
Providing a broad and expanding range of Doll Making and Doll House items, we cater to an ever changing world market. Supported by excellence in service, while never forgetting who we really work for – YOU the Customer.
We are the importers, wholesalers and/or manufacturers of all products you see on this site. We ship worldwide and can also work in US dollars. All stock is available from our 'Gabba' warehouse in Brisbane. Go to the Contact Page for local MAP and directions on how to get there.
Please contact us directly for wholesale or volume prices and discount enquiries. Wholesale accounts available to doll related business'. A copy of the New Account Credit Form & Requirements for a New Account can be found in the File Page.
There are hundreds of items we have for sale. Select one of the 8 broad categories & then you can get into the sub categories & to specific items. Dolls, Doll Making Supplies, Doll Houses, Doll House Supplies, Miniatures & General Giftware are just some of our great Ranges. Please enjoy browsing through the many items on offer.
If you have any special requests, need something sourced or manufactured overseas or want to add something to the website, please contact us and we will try to assist you?
Welcome to our NEW Website and we hope you like it. To help us give you the greatest possible service and make your 'Create-A-Doll' Shopping experience the BEST it can be – Please advise us of any problems, errors or constructive changes you encounter. Enjoy!
Please log on & leave your details to Subscribe to the newsletter. There will be some great specials and promotions coming in the near future.
Don't hesitate to contact us if you have any queries. Have a great day!